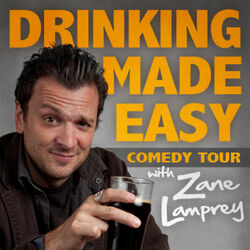 Zane takes his comedy and drinking expertise on the road with Drinking Made Easy. A comedy tour about drinking, drinking etiquette, drinking, drinking history and more drinking.
Zane's Words
Edit
My DRINKING MADE EASY comedy show is one part education, one part comedy, and two parts kick ass-- shaken, and poured over ice. The evening is hosted by Steve McKenna and features my buddy, Marc Ryan, an amazing (albeit twisted) comedian. The show is full of surprises, including a 300 pound monkey. Whoops! I've said too much. See you at the show![1]
Tour Dates
Edit
Friday, April 30th, HOUSE OF BLUES, Anaheim, CA
Saturday, May 1st, MARQUEE, Tempe, AZ
Sunday, May 2nd, RIALTO, Tucson, AZ
Monday, May 3rd, SANTE FE BREWING COMPANY, Sante Fe, NM
Thursday, May 6th, HOUSE OF BLUES - Houston, TX
Friday, May 7th, LA ZONA ROSA - Austin, TX
Saturday, May 8th, SCOUT BAR - San Antonio, TX
Friday, May 14th, HOUSE OF BLUES - Dallas, TX
Saturday, May 15, TIPITINA'S - New Orleans, LA
Tuesday, May 18th, THE PLAZA THEATER - Orlando, FL
Wednesday, May 19th, THE CULTURE ROOM - Fort Lauderdale, FL
Thursday, May 20th, THE RITZ THEATER - Tampa, FL
Friday, May 21st, 40 WATT CLUB - Athens, GA
Saturday, May 22nd, CENTER STAGE - Atlanta, GA
Thursday, May 27th, CAT'S CRADLE - Raleigh (Carrboro), NC
Friday, May 28th, THE NORVA - Norfolk, VA
Saturday, May 29th, THE NATIONAL - Richmond, VA
Wednesday, June 2nd, IRVING PLAZA - New York, NY
Thursday, June 3rd, TLA - Philadelphia, PA
Friday, June 4th, 9:30 CLUB - Washington, D.C.
Saturday, June 5th, WESTCOTT - Syracuse, NY
Sunday, June 6th, PARADISE ROCK CLUB - Boston, MA
Tuesday, June 8th, MR SMALLS - Pittsburgh, PA
Wednesday, June 9th, NEWPORT - Columbus, OH
Thursday, June 10th, 20TH CENTURY - Cincinnati, OH
Friday, June 11th, HOUSE OF BLUES - Cleveland, OH
Saturday, June 12th, ROYAL OAK THEATER - Detroit (Royal Oak), MI
Thursday, June 17th, HOUSE OF BLUES - Chicago, IL
Friday, June 18th, THE MAJESTIC THEATER - Madison, WI
Saturday, June 19th, TURNER HALL - Milwaukee, WI
Sunday, June 20th, FINE LINE - Minneapolis, MN
Friday, June 25th, FIREBIRD - St. Louis, MO
Saturday, June 26th, BEAUMONT CLUB - Kansas City, MO
Thursday, July 1st, BOULDER THEATER - Boulder, CO
Friday, July 2nd, OGDEN - Denver, CO
Saturday, July 3rd, BELLY UP - Aspen, CO
Wednesday, July 7th, KNITTING FACTORY - Boise, ID
Thursday, July 8th, THE KNITTING FACTORY - Spokane, WA
Friday, July 9th, SHOWBOX - Seattle, WA
Saturday, July 10th ROSELAND - Portland, OR
Thursday, July 15th, FILLMORE - San Francisco, CA
Friday, July 16th, HOUSE OF BLUES - Los Angeles, CA
Saturday, July 17th, HOUSE OF BLUES - Las Vegas, NV
Sunday, July 18th, BELLY UP - Solana Beach, CA
References
Edit
Ad blocker interference detected!
Wikia is a free-to-use site that makes money from advertising. We have a modified experience for viewers using ad blockers

Wikia is not accessible if you've made further modifications. Remove the custom ad blocker rule(s) and the page will load as expected.